KIDSTOWN ACTIVITIES AND EVENTS ARE POSTPONED – INFORMATION ON COVID-19 MEETING GUIDELINES WILL BE MADE AVAILABLE AS SOON AS POSSIBLE.
Larry "Gator" Collins, Children's Director – kidtowngator@gmail.com
1st-6th Graders Events/Activities
Sundays 9:45am Sunday School in the upstairs area of KidsTown in our Educational Building. Kids experience motivating and interesting study and guidance in the Word of God. On Point! Postponed until further notice…
Worship for kids is in newly renovated KidsTown, upstairs in our Educational Building each Sunday at 11am. Postponed until further notice…
Attention parents: Kidstown ministry is keeping in contact with parents through DBCKidstown Facebook page and our church bulletin. Our Children's Director can be seen in encouraging and informative videos on youtube and the Facebook page. Please stay in contact with us through posting on the facebook page or by emailing Gator Collins at kidtowngator@gmail.com. Thank you for allowing your kids to be part of this ministry. Please send your contact information so we can update our records.
Coming soon, Kids Circus for ages K5-3rd graders, details will be provided as soon as possible.
Use intercom by downstairs water fountains for child pickup Sundays after 11am KidsTown service.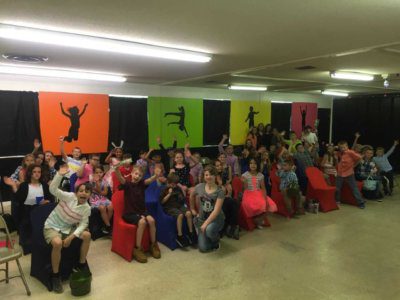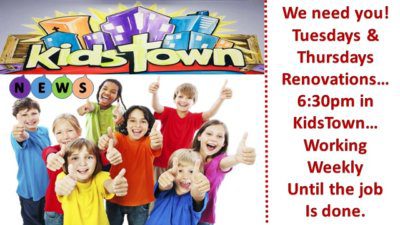 If further KidsTown information is needed, please contact the church office.
Volunteer to work with 1st-6th Graders. Serve one Sunday morning service per month in Kidstown. The future of our church is the children. Be an example by serving. You'll be glad you did.
One hour per month can make a lasting impression in the life of a child.